Wake up, wake up, wake up! Different day, comparable story, similar ending. An Idaho Judge is under fire from woke observers as he reached to the sky of white privilege to grab onto the net of safety for his young white counterpart, John RK Howard.
This past Friday, February 24, 2017, Judge Randy Stoker sentenced Howard to 3 years probation and 300 hours of community service stemming from his involvement from a 2015 incident in which resulted in him being charged with sexually assaulting a mentally disabled, African American teammate.
The victim was allegedly lured into the locker room in which a member of the football team pretended to give the victim a hug but instead the victim was held down so, 17-year-old Tanner Ward and then 18-year-old John Howard could assault him with a clothes hanger.
Howard is a Texas native and reportedly moved to Idaho, following ongoing disciplinary problems. School officials describe him as a large and aggressive student who had been sent to live with relatives in southern Idaho to keep him out of trouble.
Prior to the traumatic event the victim reports that he was frequently referred to as 'fried chicken' and 'grape soda. According, to a civil suit by the victim's family, Howard also demanded that the victim learn the lyrics to a Ku Klux Klan song known as "Moon Man"and forced him to view a Confederate flag on a computer. Meanwhile, other members on the football team taunted him with racist names and subjected him to aggressive humping.
The victim and his family interprets the verbal and physical attacks as racially motivated but Judge Stoker strongly disagreed, as he suggested that there was no underpinning prejudice behind the locker room incident.
'In my view, this is not a case about racial bias.'~ Judge Stoker
The event took place in October of 2015, in which two of the three culprits and victim were minors at the time. Howard, 19 was charged with forcible sexual penetration by a foreign object and faced a sentence of up to life in prison if convicted. He was originally charged with forcible sexual penetration by a foreign object and faced a sentence of up to life in prison if convicted in the. He entered an Alford plea in December to the lesser charge of felony injury of a child. In the plea, which is considered a guilty plea, Howard maintained his innocence but acknowledged that prosecutors likely would have been able to convict him.
The case has sparked national attention, much to the judge's displeasure and he banned lawyers on both sides from communicating with the press, as he suggested that outsiders were misconstruing what the case was fundamentally about.
"This is not a rape case. This is not a sex case. This started out as penetration with a foreign object … Whatever happened in that locker room was not sexual. If I thought that you had committed this offense for racial purposes, you would go straight to the Idaho penitentiary."~ Judge Stoker

Ward pleaded guilty in juvenile court and his charge is not known because the court records are sealed. The other teen, whose name has not been released, was also was charged in juvenile court. At a previous hearing for one of the other young men charged in this incident, the victim described having a coat hanger inserted in his backside and then kicked up it, as "Pain that I have never felt took over my body. I screamed, but afterwards, I kept it to myself."
The criminal case apparently was muddied by the family's 10 million dollar civil suit against the school district, as Howard's lawyers described the suit as made up and fictious. Howard lawyer, Brad Calbo says, "The racist stuff, it's not there, he also went on to suggest that the case was "blown out of proportion for the pursuit of money."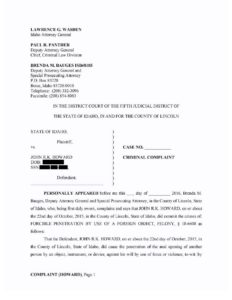 After accusations surfaced, the disabled boy was interviewed by school staff in a recorded meeting. During it, he recanted the claims made in the lawsuit and told them he'd only agreed to it because his parents wanted $10million. He reportedly was given a promise from his parents that they would relocate to The Bahamas once the suit was settled. In the recording, "friends," teammates and coaches can be heard, pleading for the victim to "be honest," and that they "love him."
But in a deposition just last week, the victim attempted to retract his previous statement of saying he made up the accusations. He said he that was coerced into saying that he made up those things and that he merely wanted his friends back.
His attorney, Lee Schlender told Twin Falls Times News that the coaches guilt-tripped him client into recanting by telling him they'd go poor if they were sued.
"Can you imagine setting a meeting with a mentally disabled child and you take him and tell him, "We're going to lose our farm, we're all going to jail, you've got to do something for us." And recording it? … It's despicable … I can't think of a much sicker situation."That was such a contrived, ugly thing to do to him…he told them what they wanted to hear." ~ Attorney Lee Schlender
The Judge has referred to this as a case of "bullying" but not a case of rape or sexual deviance. His slap on the wrist punishment, illustrates his regard or lack of quite clearly. If Howard violates his probation he can face up to 10 years in prison. He can also been accommodated by being able to serve his community service back in his home state of Texas. Meanwhile, the civil suit that the victim's family has against the Idaho School District has not yet been settled. Another day, another white man dodges the penitentiary, with blood on his hands. What's new? What a day and time to be white and male, but then again every day and every time is a right time for that.
~TayJordan
Please follow and like us: